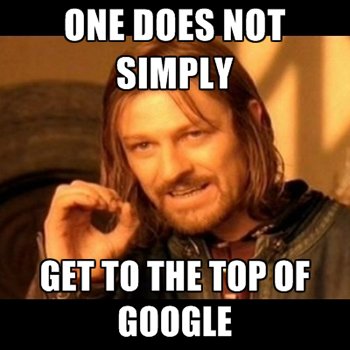 8 important tips for optimising your website for search engines
To succeed, small businesses need a combination of both on and offline marketing strategies and to understand how to have a strong online presence. Being a consultant myself and having more than 10 years of experience in digital marketing, I thought to give all you SMEs out there a few tips on optimising your web site – and in particular on-page optimisation.
By this, I mean actions you need to take in order to make sure that you help Google understand what your web site is all about, a very important factor if you want to start generating leads which will eventually convert to sales. A prerequisite is the correct selection of primary and secondary keywords, which describe your business and what you actually offer.  It's one thing to be found because someone decided to Google your business's name directly and quite another to be found by someone who was looking for "legal consultancy services" in London. If you haven't done any keyword research so far, I suggest you do so as soon as possible. If you lack the knowledge then why not hire an SEO provider and have them do it for you!
For this exercise, let's assume that you are a legal firm offering consultancy services and you have decided that your main keyword should be "legal consultancy services London". What you need to do next is use that specific keyword as your main keyword and then add secondary keywords (make sure they're always relevant with your primary one and what you do) through your web site. Let's have a look at the most important steps you need to take:
1) Web site title and H1
You need to make sure that your main keyword is the first word appearing in your web site title. In our example and assuming your company's name is XYZ, your web site title should be: Legal consultancy services in London | XYZ Solicitors. For the same reasons you also need to make sure that your main keyword is included in your H1 title (ideally H1: Legal consultancy services, London). Check your web site and make sure there is only one H1 title (you need to select HEADINGS on your editor and not simply bold the keyword ), if you need to highlight more services use H2.
2) URL structure
This is something most people tend to ignore when building their web site. Aim for short length, use hyphens if you use more than one keyword and remember that the closer to the domain name your keyword is the more important it is in Google's eyes. Here is an example:  Let's assume that you offer company formation services and one of the products you promote is a registered office address service. You prioritise the "company formation" product more than your registered office service. The URL structure in this case should be: www.xyz.co.uk/company-formations/registered-office-address. What you tell Google here is that the registered office address page belongs to "company formations" and that company formations is more important than the registered office address because it is closer to the domain page.
3) Keyword density
While it is a necessity to include the targeted keyword in your title, H1 and alt tag (see point 5 below), you also need to include it in text. I suggest you do this once every 250 words as long as it makes sense to your readers!  Aim to include it in your first paragraph and if possible in bold letters so it can serve as a small call to action.
4) Internal anchor text
If you are optimising a secondary page for a keyword such as "company formations" then make sure whenever you link to this page to use that exact phrase as your anchor text. To give you an example, make sure you link to your company formations services page like this "read here for more about our company formation services" instead of this "read here for more about our company formation services". Also remember that Google only counts the first anchor text that appears in your page, so if you have on your menu bar the company formation page titled "services" and you make a secondary link in your text with the keyword "company formation" Google will ignore the latter and count only the first one, thus your anchor text is wasted.
5) Alt attribute on images
These are much more important than H1 titles so make sure you give an Alt image title in your pictures instead of naming them "img_0005" or "img_1". Also Google's Matt Cutts said that in the future original images might count more than istock pictures, so being original and having your own content will always benefit you in the long run.
6) Keyword competition
The more competitive your keyword is the less click depth it should have on your menu/text/sidebars. Similar to the URL structure, make sure that your core products (such as company formations in our example above) is one click away from your main page and that users can land on that page fast and easy.
7) Have strong call to actions
Remember that Google counts your page visits and average time spent on your web site, so make sure you have a clear internet marketing strategy in place, that encourages people to go deep into your web site and content than just landing on one page and then leaving. If you already have a blog strategy in place you can identify blog posts that result in more than three to four page visits on your web site and capitalise on this by following a similar tactic with your other web pages.
8) Meta Description
While I have seen lots of companies including their main keyword to their meta description (and there is nothing wrong if you do so) I can safely say that it is not necessary as long as the description you use describes in detail what you are offering and what your business is all about, encouraging visitors to click your web site.