Become A Self-Employed Solicitor
Last updated on January 1st, 2018 at 02:13 pm
How to become a self-employed solicitor and grow your own practice
Long working days, unachievable billing targets, office politics, a lack of control, challenging commutes and high levels of stress. This is, of course, a normal day in the life of many solicitors. But things are starting to change and there are alternatives.
Is this really why you chose to become a solicitor?
Back in 2012 LawCare (an organisation that supports and promotes the health and wellbeing of the legal profession) reported that after an initial survey of UK lawyers, over 66% admitted to suffering from stress in the past, with 32% admitting suffering from clinical depression.
And as recently as this year, according to the Law Society, a survey conducted on behalf of the Junior Lawyers Division (JLD) revealed that over 93% of junior lawyers who responded to the survey had suffered with stress in the month before completing the survey.
Whilst perhaps not surprising, what these surveys reveal is, that despite recent shake ups, for many there's been no real shift in attitude and approach when it comes to the working practices and habits of the legal profession, whether that's working for a firm / partnership or in-house.
So, is it possible to build a practice whilst delivering a great service to interesting and diverse clients at the same time as clawing back some quality of life and control? And if so, what are your options?
Locum, sole practitioner, part time or consultant
Going it alone can seem like an attractive and obvious choice and if you're considering it, you're faced with four main options:
Locum Solicitor
Becoming a locum is something many enjoy. Of course, you'll be self-employed and you'll need an ability to be able to pick up and run with someone else's work, often with little assistance.
The downsides of being a locum are that contracts can range from as little as a few hours to a few years and you're always at risk of periods of time without work. What's more, however long a contract is, you're always going to be investing all your hard work and effort into someone else's practice.
Sole practitioner
Again, for some, this represents an ideal solution but it's not without its difficulties. Professional indemnity insurance, getting accepted on lenders' panels, finding premises, funding and managing the administration, marketing and business development all fall to you.
If you're going it alone for the first time, this increased level of responsibility falls at a time when your income, reputation and client base is not yet secure.  And there's also the public perception of being a one-man / woman band to overcome.
Part time
If you really want to keep the relative security of working for a firm but you want to reclaim some quality of life, you can always seek to go part time. However, of course this inevitably comes with a pro rata reduction in pay and often comes with a certain stigma attached, especially given the demands of clients.
Self-employed consultancy
An increasing popular alternative to the options above, self-employed consultancy allows you to provide your services through an established law firm.
It also comes with a lot of advantages:
You decide when to work and where to work. That means you can work remotely, part time, whatever suits you.
You decide what type or clients you want to work for and you don't have to do work offered to you by the firm if you'd rather not. Meaning you can shape your practice into the one you want.
You set your own targets and fee structure, meaning no more beating yourself up to achieve someone else's targets. If you want to take the day off, work part time, or set your own flexible hours, that's also fine.
But you don't have the additional worry of PII, funding and premises.
In short you take back control of your practice. You can develop it at a pace and in a way that suits you.
And you say good but to office politics, commuting and late nights in the office.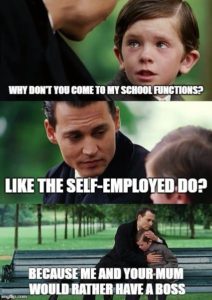 How it works
The firm you work as a consultant for will take a percentage of your fees. This is normally in the region of 20% to 30% for clients you introduce to the firm but this will vary.
As their consultant, you can continue to work with your own established clients who've chosen to come with you. However, if you've chosen the right law firm, you'll also get referrals from them and be able to do some of their client work should you choose to.
The other advantages of working this way are significant:
The firm you work with will be responsible for PII, although clearly you have to comply with the terms of their cover.
They'll also be responsible for compliance and practice management.
You'll be able to rely on their marketing and practice development, their administrative support, their legal accounting software and their other resources, including use of their premises.
You'll be able to take advantage of their library, precedents and in-house knowledge.
In short, the consultancy option, offers you all the benefits of going it alone without the risks.
How many years' experience are required to become a self-employed consultant? 
There's still a lot of misunderstanding about how experienced you have to be to go freelance. Often perceived as the domain of older partners or the very experienced, this is not in fact the case.  Lawyers at all levels of PQE can opt to go freelance, although we generally recommend that you have at least 4yrs PQE.
How do you make the transition to self-employed consultant?
You can choose to either operate as a sole trader or to set up and operate via a limited company. There are clearly pros, cons and tax implications of either approach and you'll probably need to take professional advice to choose the best option for you.
If you'd like to discuss this further with someone, we can put you in touch with an appropriate professional, just drop us an email today.
Whichever approach you decide on, as someone who's self-employed, you'll become responsible for keeping your own records and accounts and paying the correct amount of tax to HMRC, as well as making your own pension arrangements.
Choosing the right firm
Choosing the right firm is critical to success. You'll want to be sure that they have sufficient resources to support you and your clients and that includes administrative, IT and marketing support. And do they have a strong client base of their own?
You will also want to ensure that your existing clients will be comfortable with the new arrangement. That might be as simple as ensuring conference facilities are adequate and convenient or it may mean taking a look at the firm's attitude and values.
Possibly the most important part of your move will be the contract you agree with the firm. Hourly or daily rates for your services will need to be agreed. You will also want to decide whether you are going to offer your consultancy exclusively to one firm or to a number of firms. The firms you choose will clearly need to agree this.
As mentioned, depending on the firm, they will probably refer work to you although you'll normally be asked to sign undertakings not to poach clients which weren't introduced to the firm by you.
And whilst you vet the firm, they will also want a level of re-assurance. Primarily they'll want to know that you're competent and an asset to their firm and its reputation. It's therefore a good idea to put together a business plan and or strategy and have references from clients and former employers, a like.
Finally, you'll need to agree who covers the cost of setting up the consultancy and your continued professional development (normally you).
Helping you to build your own practice
If you're still relatively new to the profession or for whatever reason, don't have a well-established client base, the idea of losing the security of an income and building your own case load and business can be the most daunting aspect of going freelance. But it doesn't have to be.
At the Jonathan Lea Network, we are often asked to advise solicitors on setting up on their own as freelance consultants. We can also help you choose and identify the best firms to work with as a consultant given your situation and specialisms.
Perhaps more importantly, we consistently attract high levels of corporate and commercial work which we refer to other self-employed solicitors we know. If you happen to practice in these areas we can help you set up as a freelance legal consultant with a firm we have an introduction fee relationship with, thus helping to give you the peace of mind that you'll have a steady flow of work from the start.
So, if you love what you do but just want to be able to deliver a better service and enjoy a better quality of life, freelance consultancy is an exciting and realistic option. Contact us today if you'd like to know more about how to make the transition or how we can help you to create and build your own practice.