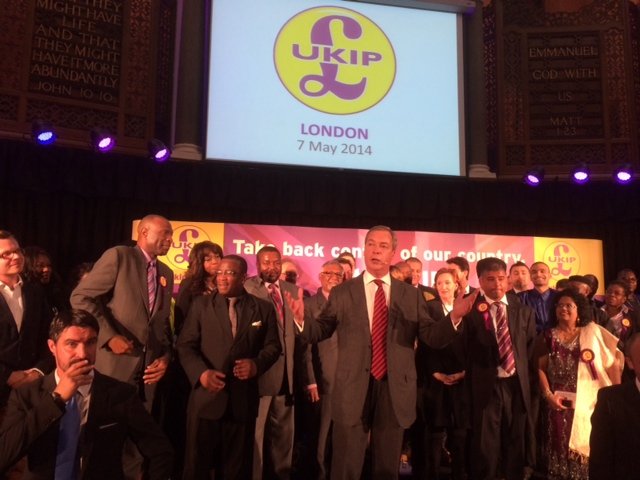 Inside UKIP's Ethnic Minority Conference
Yesterday evening I managed to get into UKIP's latest conference, keen to see what these gatherings are really like and make my own impression of the party, unfiltered by any bias that may or may not exist from the interests of mainstream media reporting. The event was held in a large venue near Westminster with the aim of giving centre stage to UKIP's leading ethnic and religious minority and female members and candidates.
Immediately on arriving there was a lively atmosphere outside as a result of a crowd of protestors who mostly seemed to be made up of members of the Unite trade union (who incidentally, I learnt, receive a large part of their funding from taxpayers, not just from union membership fees).
Noisy protest outside Ukip event in Central London. Pink-trousered ukip supporter shouts back: "Buy some soap!" pic.twitter.com/WGI0N9A5zc

— Laura Pitel (@laurapitel) May 7, 2014
"…protesters abused those queuing to get into the #UKIP event ..one man calling (Raheem Kassam) "a faggot" for wearing a pink shirt."

— Mike A R Powell (@MikeARPowell) May 8, 2014
Once I managed to get inside, the conference launched into a series of impassioned and rousing speeches from UKIP figures who don't conform with the male WASP stereotype. Apparently most were from London where someone told me about 70% of UKIP candidates are from an ethnic minority background.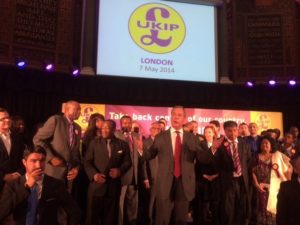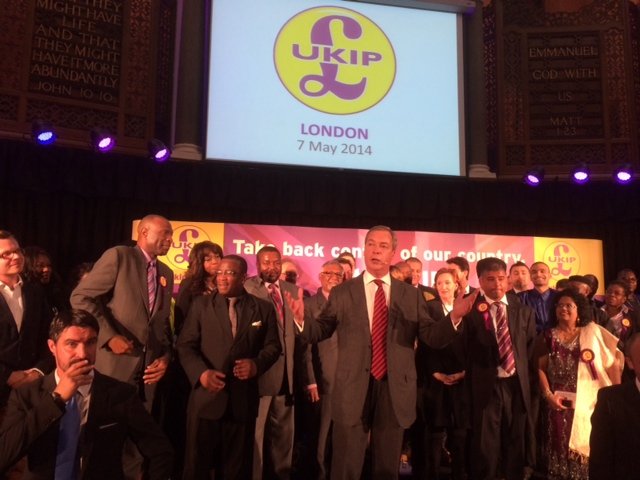 There were of course the usual few infiltrators who managed to get in and have a heckle. The security operation dealt with them swiftly, although it would have been interesting to see if any of them could articulate anything other than screaming 'racist' (although from the tweet below that seems doubtful).
It's getting spicy in the #ukip room. Another 5 people just escorted out for shouting "racist" at the speaker who is half black, half Jewish

— Raheem Kassam (@RaheemJKassam) May 7, 2014
For all the bonhomie and back-slapping through the evening, unfortunately there was a certain Belgian national who didn't seem to be as welcome with the party (the tea towel on sale below reads 'Genuine Belgian Damp Rag Herman Van Rompuy', followed by Farage's 'Who Are You?' quote).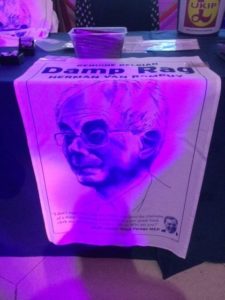 At the end it was of course Nigel Farage's turn to have his say, surrounded by candidates who had earlier taken to the microphone.
For a fuller report of the evening Raheem Kassam's piece in Breitbart is worth a read.
Is the media already playing down UKIPs Black, mixed and ethnic candidates taking a front row https://t.co/x7PGRWpwLd by @RaheemJKassam

— Steven Woolfe (@Steven_Woolfe) May 8, 2014