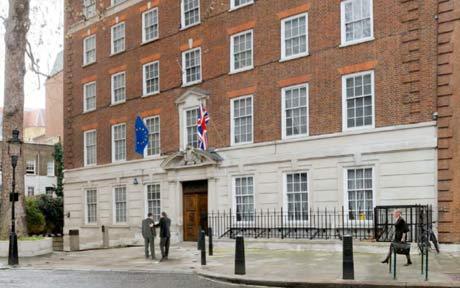 Is the EU good or bad for British business?
This morning I attended a debate at Europe House organised by Open Europe and the European Parliament UK Information Office. The purpose of the debate was to address the following issues:
– Does negotiating international trade agreements as a 28-country strong bloc help or hinder the UK?
– What are the prospects for getting better trade deals with countries such as the US, India, China and Brazil outside the EU?
– How would the UK's global commercial position be affected if it left the EU?
– What sectors of the economy have the most to win or lose from the negotiations for EU-wide compromise?
– Are the EU's trade negotiations sufficiently transparent or is there a need for more parliamentary scrutiny?
The debate was chaired by Chris Giles, Economics Editor at the Financial Times and the speakers and panelists were Jacqueline Minor, Head of European Commission Representation in the UK, Mats Persson, Director of Open Europe, Vicky Pryce, economist, Stephen Adams, Partner of Global Counsel LLP, Dr Syed Kamall MEP and Leader of the UK Conservative Delegation in the European Parliament and William (The Earl of) Dartmouth MEP, UKIP.
The following tweets sum up some of the key points made during the morning's debate and discussion:
'It's not in doubt that UK could negotiate own free trade agreements with rest of the world if not an EU member' Jacqueline Minor #EUandUK

— Jonathan Lea (@jonathanlea) December 13, 2013
Persson: European Commission more liberal than sum of its parts & has counterbalanced protectionist instincts of some member states #EUandUK

— Open Europe (@OpenEurope) December 13, 2013
"@OpenEurope: J Minor: Cmsn Rep. UK exports to China and India doubled last decade but still only 1/4 of Germany's exports #EUandUK"

— UK Eurocrat (@DominicBrett1) December 13, 2013
You don't need to be in political union for successful trade says William Dartmouth MEP using Switzerland as European example #EUandUK

— Europarl UK (@EPinUK) December 13, 2013
William Dartmouth UKIP: When UK joined the EU it turned its back on trade with Commonwealth #EUandUK

— Zuzana Pavlickova (@zuzpav) December 13, 2013
'We can only go as far and as fast as the most protectionist country in the EU' Syed Kamall MEP #EUandUK

— Jonathan Lea (@jonathanlea) December 13, 2013
#EUandUK Syed Kamall MEP:I get frustrated at some EU countries holding up the eu/us trade deal TTIP eg France seeking cultural exemptions

— Joe Lynam BBC Biz (@BBC_Joe_Lynam) December 13, 2013
Stephen Adams (former trade advisor to Lord Mandelson): It is "unquestionably the case" that EU weight brings partners to the table #EUandUK

— Open Europe (@OpenEurope) December 13, 2013
Kamall: If UK were to leave EU we would get trade deal with US but probably not Commonwealth free trade area (but bilateral FTAs) #EUandUK

— Open Europe (@OpenEurope) December 13, 2013
Agree w/ @SyedKamall that post-Brexit UK would prob get deal on goods. Big question is services https://t.co/qz2yuUtaHw #EUandUK

— Mats Persson (@matsJpersson) December 13, 2013
Vicky Pryce points out that UK in EU has voice in sgl mkt rules and standards that often "go global" and underpin wider trade #EUandUK

— Mark English (@EULondonMark) December 13, 2013
Panel agree EU very unlikely to seek FTA with China, meanwhile small countries like NZ, Iceland & Switzerland have managed to #EUandUK

— Jonathan Lea (@jonathanlea) December 13, 2013
×
Contact Us
In need of legal advice? We would love to hear from you!