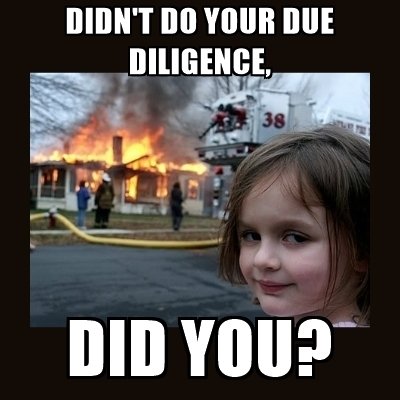 How To Carry Out A Due Diligence Exercise When Buying A Company
If you're buying or merging with another company, due diligence is the in-depth investigation and analysis of the obligations, liabilities, business structure, finances and legal situation of the company being acquired. It's an essential part of the acquisition process which requires good planning and should be completed well in advance of completion.
A useful short form due diligence questionnaire and guidance notes can be found in our shop.
Why
The process should reveal any previously unidentified risks, thereby safeguarding the buyer and allowing the buyer to re-negotiate key terms such as the consideration payable and include any necessary protective terms (such as relevant warranties and indemnities) in the final sale and purchase agreement. In short, the process should reveal the real "warts and all" nature of the target company.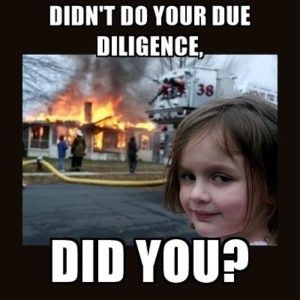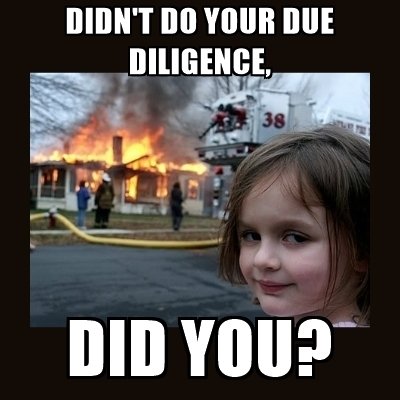 When
It's a good idea to carry out some preliminary due diligence as early as possible and before you've made a preliminary offer for the target company.  However, at this stage, the target company is unlikely to give you the kind of detailed information you need to carry out full due diligence, so you'll probably be limited to making industry enquiries, checking with Companies House and carrying out what research you can by way of information that is already in the public domain.
The full due diligence process will happen once a formal offer has been accepted, heads of terms have been signed and the parties are bound by exclusivity and confidentiality obligations.
How
Depending on the size and nature of the target company, you'll probably need a team of different professionals to deal with the different aspects of due diligence. The process can take anything from a few days for a smaller company to months for a larger company and you'll need to engage professionals well in advance in order to avoid unnecessary delay and to ensure your professionals are properly prepared and briefed.
Consideration also needs to be given to the target company's staff. If any due diligence, and organisation of materials to be provided, is being carried out on site, staff will inevitably be aware that the business is up for sale. A virtual data room is often used which helps alleviate this problem.
The due diligence process is usually begun by the buyer's professional team issuing a questionnaire, asking for particular documents and any points they want clarifying. It's important that this is carefully managed in order to avoid overlap between the different professionals / questionnaires.
Typically, some of the basic information the target company will be asked to provide includes:
Memorandum & Articles of Association, minutes of board meetings, resolutions and shareholders' meetings;
Recent financial statements, tax returns and business plans;
Employment contracts, personnel records, details of employee benefits and pension scheme details;
Material sales contracts, supplier contracts and distribution agreements;
Licensing agreements, intellectual property matters and property lease agreements;
Insurance policies; and
Further details of any legal issues the buyer is already aware of.
Of course, on receipt of the above, further questions may arise. Once all the information has been examined and analysed, your due diligence professionals should prepare and provide a summary and report which includes any key recommendations.
The following provides an overview of what a due diligence investigation should include:
The financials
An in-depth analysis of the company's financial situation (present, past and future) is essential. Depending on the complexity of the target company you may need more than just an accountant to do this. However at the very least, the process should include examination of the target company's:
Financial statements, accounts and balance sheets for at least the last three years.
Projections and sales forecasts – are they achievable and realistic based on available evidence and how do they measure up when compared to the industry / economy as a whole?
Debts, liabilities, assets and cash flow. What are the terms of any debt? How have assets been valued? Are there any inconsistencies or have there been any changes in accounting practices which may have affected value?
Sales growth, profit margins, overheads and working capital. What, if any, is the scope for improvement?
Tax returns filed in the last five years. This will require your professionals to get an understanding of how tax has been calculated. It should of course include any details of any tax owing and any correspondence or information about dealings between the target company and HMRC.
Legal due diligence
Legal due diligence covers a wide range of issues, the most important of which are:
Confirmation of legal ownership of all key assets. This might include property, IP, equipment and vehicles. The buyer will need to conduct property searches and review title documents, checking for covenants (restrictions) and easements (rights of way) which will affect the value or use. They also need to check whether there are any contentious issues outstanding or potential issues in respect of all of the above.
It may be necessary in some circumstances to check whether planning permission is required and / or whether it's been complied with. It some cases it might be prudent to instruct surveyors.
If property is held under a lease, the terms of the lease itself, including any liabilities and obligations, will need to be examined.
Confirmation of the status of any intellectual property including registered patents, copyright, trade secrets, trademarks etc. (foreign and domestic) and how (and if) they are protected.
Checks should be carried out into what technology and licenses the business has or requires and whether there are any issues, liabilities and obligations arising therefrom.
The details and terms of any guaranties, loans, credit agreements, hire purchase and equipment lease agreements all need to be checked.
Any partnership or joint venture agreements, limited liability company or operating agreements should be checked.
Enquiries need to be made into whether there are any other agreements which may be relevant to the purchase such as franchise or agency agreements, confidentiality and non-compete agreements.
All the target company's insurance policies should be thoroughly audited.
If relevant, environmental issues need to be assessed and this may require a separate specialist professional.
Checks should be carried out into any past, present or pending legal issues or legal proceedings including employment law and intellectual property litigation.
Customers
The customer base is another important area and the key customer contracts need to be analysed carefully. Are the contracts clear, fair and are they going to be affected by a change of ownership? What are the terms and conditions and are there any significant customer issues? What shape is the sales pipeline and the sales team in?
Other main questions you might want answered are:
How long have they been customers?
Who is their main contact at the business? If this is the owner, how will his / her departure affect the relationship and should you consider his /her continued involvement for a period of time?
What is good and bad about the business' products or services?
Who are your competitors and do your customers also use them? If so, why, and how do you compare / compete?
What will the customers' future demand be for the business' products or services?
What revenue is generated from which sectors of the customer base. What customer issues / risks are there and is a certain customer or section of customers particularly important / vulnerable?
Suppliers and distribution
Almost as important as your customer base, are your suppliers and distribution channels. These can reveal a great deal about the target company. In particular, you need to know:
Are the supplier contracts clear, fair and are they going to be affected by a change of ownership?
What are the terms and conditions and are there any supplier issues? Are there any areas that are vulnerable and are there any issues or potential issues in respect of either suppliers or distribution? Are your suppliers' practices ethical?
Does the business pay on time and is the target company an efficiently run business which treats its suppliers well?
Employee/Management Issues
At the heart of any good business are the management team and employees. Due diligence should at least include:
Full details of management profiles and organisation.
Details of all employee profiles including salary, benefits, incentives and perks and any misconduct / professional development issues.
Contracts of employment. Has the target company got measures in place to prevent key members of staff leaving or being poached? How is employee morale and what is staff retention like?
Copies of any pension, profit sharing, deferred compensation, and retirement plans. It may be necessary to take actuarial advice on the valuation of a pension fund.
Employment manuals and policies.
An understanding of what redundancies may be necessary and what the associated costs of these will be. What the timeframe is for complying with the relevant consultation procedures and legislation.
Every company purchase will be different when it comes to due diligence and the above is only an outline of some of the main enquiries that should be made before the purchase proceeds any further.
If you're about to go through the due diligence process, the full scope of the enquires you need to make should be planned as early as possible with your professional team.
If you'd like further information about any aspect of the due diligence process, contact us today and we can help put you in touch with the right people. We are also experienced ourselves at carrying out legal due diligence exercises in respect of small M&A transactions and equity fundraising rounds.
Further reading:
Free Heads Of Terms For Buying Or Selling A Company